Reiki is a safe, gentle, non-intrusive hands-on healing technique either for use on yourself or with others, which uses spiritual energy without using pressure or massage.
Reiki is a system for balancing, healing or harmonising all aspects of the person - body, mind, emotions and spirit - it may also be used to encourage personal and spiritual awareness and growth.
On this training you will learn to:
Understand what Reiki is.
Understand the history of Reiki
Learn about the Chakra System
Receive Reiki Attunement
Learn hand positions to use the energy (to provide treatment for family and friends) and have the opportunity to practice.
Achieve confidence to continue using Reiki at home.
Engage in Reiki exchange.
Importance of self healing for your own development.
The cost of this course is £150 and runs for 2 days.
You will learn how to use Reiki for personal use, however, this course will also provide foundation if you wish to move forward as a practitioner.
New dates to be announced soon! Watch this space!
Contact Julie
Call on 07857 786 929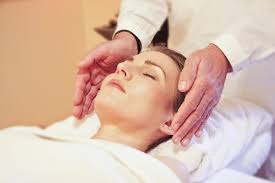 Your information was successfully submitted.